A Restaurant And Bar in Bingin with locally inspired food.
Feeling hungry? We got your back with our restaurant serving breakfast, lunch and dinner from 7am to 11pm (last order at 10:30pm).
Our chefs bring you the freshest ingredients to prepare your favorite Indonesian and Asian dishes prepared with local ingredients.
Feeling lazy to leave your villa? No worries, we can bring your meal to your room. Add a little touch to your stay and let us know what time you would like breakfast in bed to be served, we take care of the rest!
Mensa Asian Bistro + Bar restaurant and bar in the heart of Bingin offers you beautiful pool views in a cozy atmosphere, ideal to catch up with your friends while sipping on your favorite cocktail.
The restaurant and bar are open for outside guests looking for a great dining option in Bingin Beach area.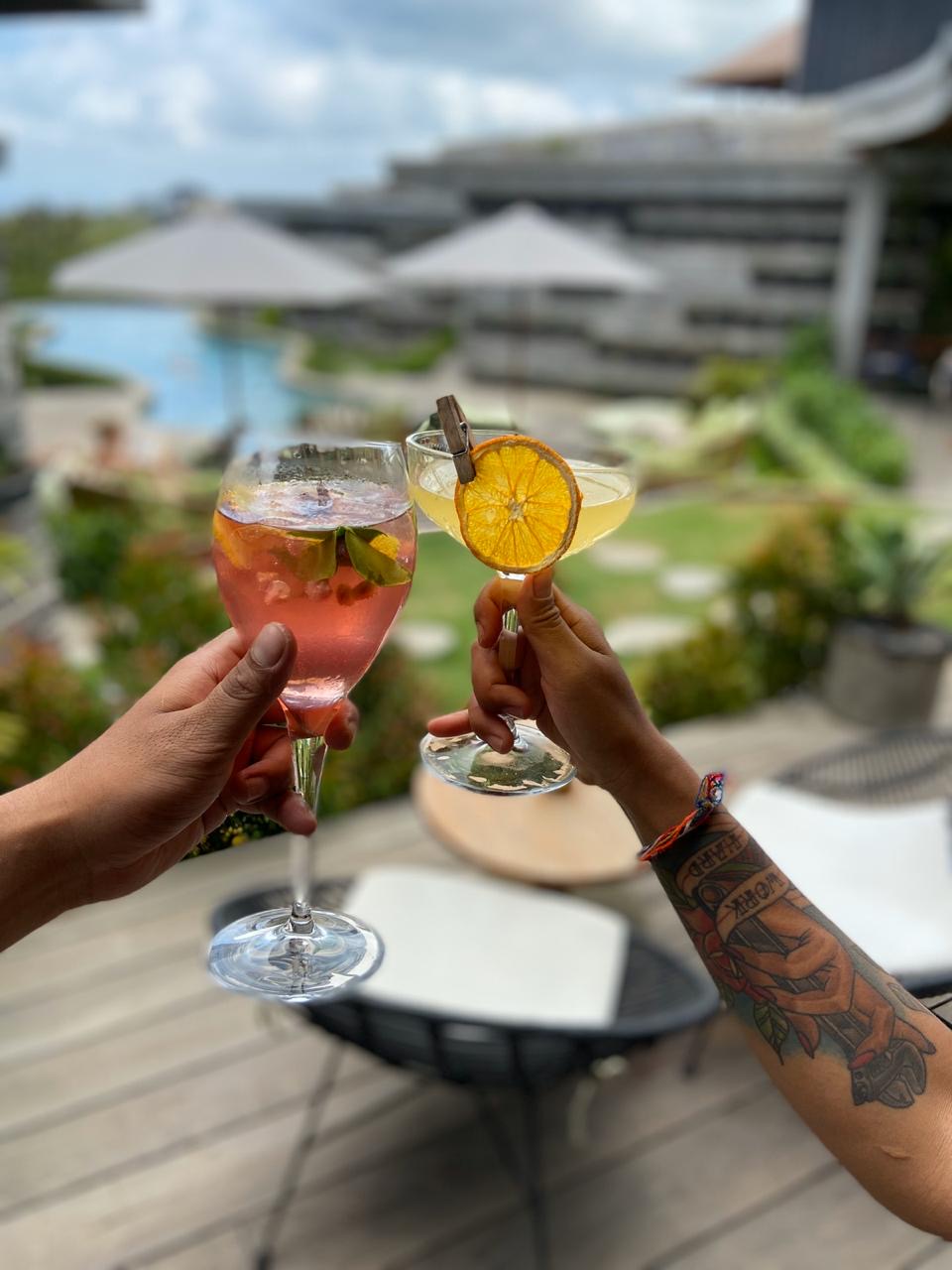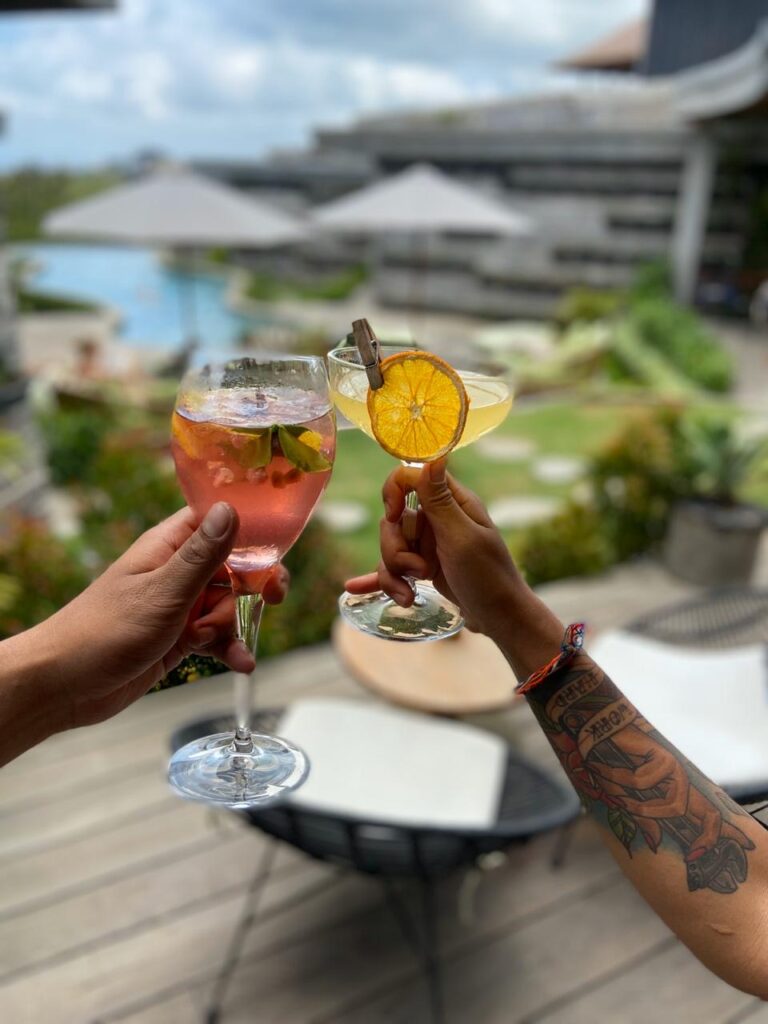 Daily HAPPY HOUR, from 3pm to 7pm – buy 1, get 1 free on cocktails, mocktails, wine by the glass and local beers
Best service experience Probably the best service you can get in Bali. I had a solo dinner at mensa, food was good and chilling cocktail just excellent. Highly recommend!
Stunning views If your keen for a swim with a great view and great food. This is a great place to stop by. Staff were real friendly and helped us with parking almost like valet style. Creme Broulee was awesome.
Delicious food, good atmosphere Food was delicious. We tried few small plates and then the main course. Would recommend to try out multiple small plates.
Excellent Great breakfast for me and a friend. Very accomodating and friendly staff. I had eggs on sourdough and my friend had nasi groeng. Recommended
Highly recommended- great place Amazing food and really friendly staff. Food was authentic, really good portions and amazing cocktails
Great food and staff We stayed at the elementum with our 9 month old and ate breakfast and dinner at Mensa. The food was on point and the staff is unbelievably friendly and accommodating, even with special baby requests. Absolutely recommended.
Phenomenal This is a hidden gem worth finding. Recommended by a friend otherwise actually would not know this incredible restaurant was located hidden in the back streets of the fabulous BINGIN beach. We had to book in person as unfortunately their number online wasn't up to date (correct number Is +62 812 3785 5774)There were 7 of us and they went to a lovely effort to set us up a gorgeous long table and it felt like a private dinner party. We arrived in time to try their cocktails and it's 2 for 1 between 3pm and 7pm. $13 and first class choices. Highlight was the coco mai Tai and kaffir lime collins…. The food that followed was mind blowing. An absolutely enormous menu. Huge servings even on the small plates and entrees. We tried so much we left in a food coma. We had lobster dumplings , duck noodles , pork fried rice (omg!!!!!!) pot stickers , loaded duck fries, crispy chicken wings, mackerel pate, pumpkin gnocchi and mahi mahi to name a few!!! We squeezed in a decadent chocolate pie and first class cream brûlée to share afterwards! All this with some lovely red wine was $50 a head! We'll be back !Staff were so attentive and friendly CANT wait to try the whole menu and take advantage of their day spa.
DELICIOUSOOOOO FOOD HIGHLY RECOMMEND One word, delicious.Food was incredible and fresh and came out super fast and hot. The staff were amazing and always happy to help and had amazing service. Highly recommend to anyone going past or staying on the Bukit. 10/10
Modern eten in een intiem restaurant. Leuk klein en modern restaurant. Ziet er nieuw uit en is uitstekend verzorgd. Hygiene super.Eten was ook lekker. We hebben wat kleine vite, een hoofdgerecht en een dessert gedeeld. Eten was lekker met een moderne twist.Goede stoelen.
A very nice surprise My partner and I had dinner here last night and from the moment we walked in we enjoyed ourselves. The atmosphere, views and staff were great.It was a little before 7pm, so we took advantage of the happy hour 2 4 1 cocktails. Very nice.Then instead of ordering mains we thought we would order 6 share plates. Hmm, some of the share plates are almost a meal. We ordered way too much.My partner loved her cauliflower dish and the chicken wings were one of the best I had.Definitely going back before we leave.